THE PRINCE EDWARD POINT BIRD OBSERVATORY IS PLEASED TO OFFER...
SHADE GROWN, BIODIVERSITY FRIENDLY COFFEE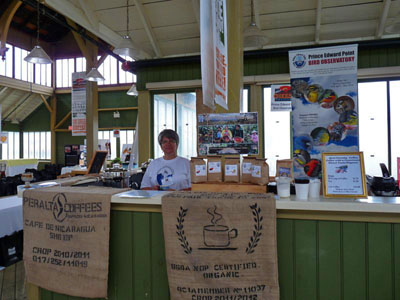 Prince Edward Point Bird Observatory (PEPtBO) is proud to offer the discerning coffee drinker a unique "Direct Trade", Organic, Shade Grown Coffee from the Tepe Somoto-Pataste Region of Nicaragua. The La Union Plantation workers hand pick, sun dry and manually bag their annual harvest of dense, flavour-packed beans and send them to Las Chicas del Cafe Roastery in London, Ontario where the plantation owner's daughters, Maria and Valeria lovingly roast and sell their father's beans. (see photos below)
PEPtBO recognizes that 47 species of what we see as our "Canadian" Migratory Birds fly to Nicaragua and of these, five are currently threatened or considered a species at risk. By purchasing SHADE TREE coffee, we help preserve habitat and food for all the birds of the rainforest as well as help preserve this fragile eco-system. For almost 80 years, these old world Arabica coffee bushes have produced a high quality bean below the canopy of the Nicaraguan Rain Forest. Bridget Stutchbury, a professor of Biology at York University, believes drinking Coffee with a Conscience is preserving bird habitat, one cup of coffee at a time.
PEPtBO is one of Canada's foremost Bird Banding Stations that monitors the health of our bird populations. This fundraising initiative supports the upkeep and preservation of this important activity.
We thank our community supporters for providing us with the opportunity to make this special coffee available to Bird and Coffee Lovers. We thank you for purchasing this coffee and supporting PEPTBO.
For every package you buy, a portion goes to PEPtBO, a non-profit and completely self-funded organization. This money will support PEPtBO's crucial work every spring and fall collecting data on thousands of birds, including a number of the species that winter in Nicaragua, en route between their nesting grounds in the northern boreal forest and their winter homes to the south.
This new venture was discussed by two Prince Edward County residents, Kathy Felkar and Carolyn Barnes. Kathy, a keen birder and PEPtBO supporter, was inspired by a newspaper article about Margaret Atwood supporting the Pelee Island Bird Observatory by putting her name to a brand of shade coffee. Kathy decided to try to create a County version that would aid PEPtBO. The idea was discussed with the president of PEPtBO, to develop the product. After considerable research, they chose shade-grown, biodiversity-friendly Arabica beans from small plantations in Nicaragua, the winter home of many of our songbirds. The growers are committed to producing sustainable coffee - coffee grown in a way that protects the natural environment and fosters healthy communities.
The beans are roasted at the plantation owner's daughters roastery in London, Ontario - Las Chicas Del Café. The result, Nicaraguan Bird-Friendly Shade-Grown Coffee, isn't just good for birds. It's good in many other ways, too. It's organic and direct trade, a form of fair trade where the producer sells directly to a coffee roaster rather than through a middleperson. Coffee raised under shade grows slowly, which results in harder beans with more flavour. The packaging is recyclable. And yes, this coffee is absolutely delicious.
The Fiallos Family Coffee Farm in Las Sabanas, Nicaragua is the only supplier of our PEPtBO coffee. We chose this particular coffee because we know it SHG - Shade and high grown - and therefore home to birds.
Kathy Felkar 613-476-9757

---
You can get Nicaraguan Biodiversity Friendly Shade-Grown Coffee, beans or filter grind, at County Sunshine, 195 Main Street in Picton ($17 for 454 grams)

We have one pound bags in filter and bean, Medium and Dark Roast. It is a great hostess gift, or a Christmas gift for someone who has everything and the profits go to a great cause
Be sure to catch the Prince Edward Point Bird Observatory display in the store front window, and don't forget to drop in and purchase your package of coffee.
* * IMPORTANT NOTICE * *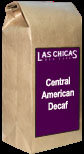 We have now added a Central American Decaf to our repertoire of Arabica beans!
Central American Decaf - Medium/City Roast (A blend of Central American Arabica Decaf beans processed in an eco-friendly manner) A balance between mellow body & pleasing flavour
"The best decaf that I have ever purchased!" (Rosemary Kent)
---
Biodiversity Friendly Coffee is also available at the following locations
Half Moon Winery: 3271 County Rd.13, South Bay (seasonal)

Stanners Vineyard: 6 Station Road in Hillier (seasonal)
Campbell's Orchards: 1633 County Road 3, Rednersville

The Local Store: 768 County Rd 12, West Lake Road
The Local Food Shop: 212 County Road 16, Black River
The General: 283 Main St. Wellington
The Birdhouse Nature Store: 240 Presqu'ile Parkway, Brighton

---