The Prince Edward County Field Naturalists, founded in 1997, is an affiliate of Ontario Nature. It provides an educational forum dedicated to the study, promotion, appreciation and conservation of the flora and fauna within Prince Edward County.

S A V E O S T R A N D E R P O I N T ! ! !
OUR GOALS ARE....
Encourage the enjoyment of nature;

Promote public interest in the appreciation and study of nature; and

Advance the conservation and preservation of Prince Edward County's natural resources, habitat and environment.
At monthly meetings, guest speakers introduce a variety of nature related topics that are of interest to club members. All members are encouraged to participate at meetings by sharing their experiences and observations.Regularly scheduled field trips in the vicinity offer members the opportunity to experience various habitats.
(Link to our monthly newsletter at bottom of page)
New! Fabulous Fall Fungi workshops. Scroll to bottom of page for details

---


President..............................................................................Sandra Dowds

Vice-President......................................................................Amy Bodman

Membership Secretary .........................................................Agneta Sand
Treasurer.............................................................................Sheena Kennedy

Newsletter Editor..................................................................Sue Banks
Member At Large: ................................................................Sheila Kuja
Member At Large: ................................................................Myrna Wood
Member At Large: ................................................................Gerry Jenkison
---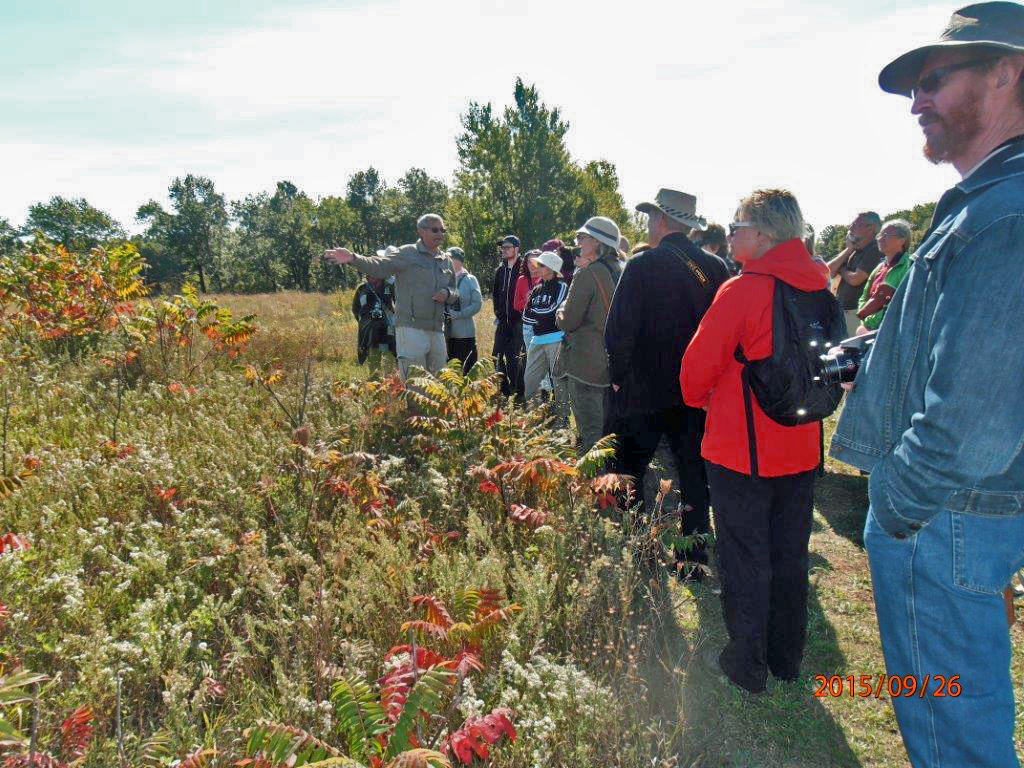 Membership in PECFN is open to all.
Single: $15.00
Family: $30.00
Student: $5.00
Corporation: $50.00
Contact: Prince Edward County Field Naturalists, P.O. Box 477, Bloomfield, Ontario K0K 1G0
Photo: Guided hike at the Alderville Black Oak Savanna on September 26, 2015. Photo by Agneta Sand

founders and co-sponsors of the annual Prince Edward County Birding Festival

initiated the Prince Edward Point Important Bird Area (now South Shore IBA)

comments on environmental issues to local, provincial and fedearl governments


lobbying against the use of Dombind on Prince Edward County roads

involved with other organizations in starting the Prince Edward Point Bird Observatory

participates on committees and panels on conservation oriented issues in Prince Edward County

regular field trips and indoor meetings to heighten awareness of natural history in Prince Edward County

contributed $3,000 toward the purchase of the Miller Family Nature Reserve
awarded the 2012 Conservation Nature Award from Ontario Nature
made presentation to the consultants writing the Official Plan Review draft that the Review specifically protect the South Shore as a Core area of conservation, also recommending stronger protection for woodlands and wetlands.
organizes and holds an annual Bioblitz of the South Shore Important Bird Area
displays at Picton and Milford Fairs
spearheaded the Save Ostrander Point effort

Photo: PECFN members look over a large area of Big Bluestem at the Alderville Black Oak Savanna on September 26, 2015. Photo by Agneta Sand
---
* * PECFN Celebrates Award Nomination * *
Kingston Field Naturalists and Quinte Field Naturalists have nominated PECFN for the W.E. Saunders Natural History Award from Ontario Nature. The nomination describes PECFN's commitment to preserving the PEC South Shore IBA in the following terms: "Appealing against the Ostrander Point approval is a David versus Goliath task! The difficulty is immense, but the significance is enormous. – If wind turbines cannot be stopped at Ostrander Point in the heart of an IBA, they are unlikely to be stopped on environmental grounds anywhere in Ontario."
"The leadership qualities demonstrated by the PECFN are amazing. In the face of a giant, this dedicated group analyzes the issues and formulates well organized plans to move forward, always communicating well, and recruiting many skilled people to support its cause. PECFN's campaign has educated many people about the value of caring for our natural environment. They are truly environmental heroes!"
We are humbled by this over the top description of our efforts to Save Ostrander Point and thank KFN and QFN for their support of the cause.
---
Click the link below to see the 2016 PECFN Bioblitz results:
Click the link below to see the 2015 PECFN Bioblitz results:
---
INDOOR MEETINGS
Meetings are held at the Bloomfield Town Hall on the last Tuesday of the month (September through May, except December) starting at 7:00 p.m. Everyone welcome.

Our Next Meeting ! !
Speaker: Terry Sprague
Topic: "Community Wildlife Monitoring"
Date: Tuesday, February 28, 2017

Time: 7:00 p.m.
Location: Bloomfield Town Hall

Terry Sprague has been the Bay of Quinte area coordinator for the Community Wildlife Monitoring Program for BQRAP since 2002, and is also a Bird Studies Canada coordinator for the Marsh Monitoring Program for an area stretching from Cobourg to Kingston. In this program he outlines what the programs involve and the success that he has enjoyed working with over 60 volunteers for the past 15 years.
---
OUTINGS
PECFN has regular outings to investigate areas of natural and scientific interest such as conservation areas, the Millennium Trail as well as to lakeshores and woodlands.
* Amherst Island: Tuesday, January 17 * (bad weather date, January 18)
Join Joanne Dewey and fellow PECFN members for our annual trek to Amherst Island to look for owls. Meet at 7:45 a.m. at the Glenora ferry or be at the Amherst Island ferry at 9:15. Bring a lunch and dress for the weather. We will look for owls and hawks and anything else that pops up in our travels around the island. The walk to the owl woods will depend on snow conditions. RSVP Sandra Dowds
---
OUTING REPORT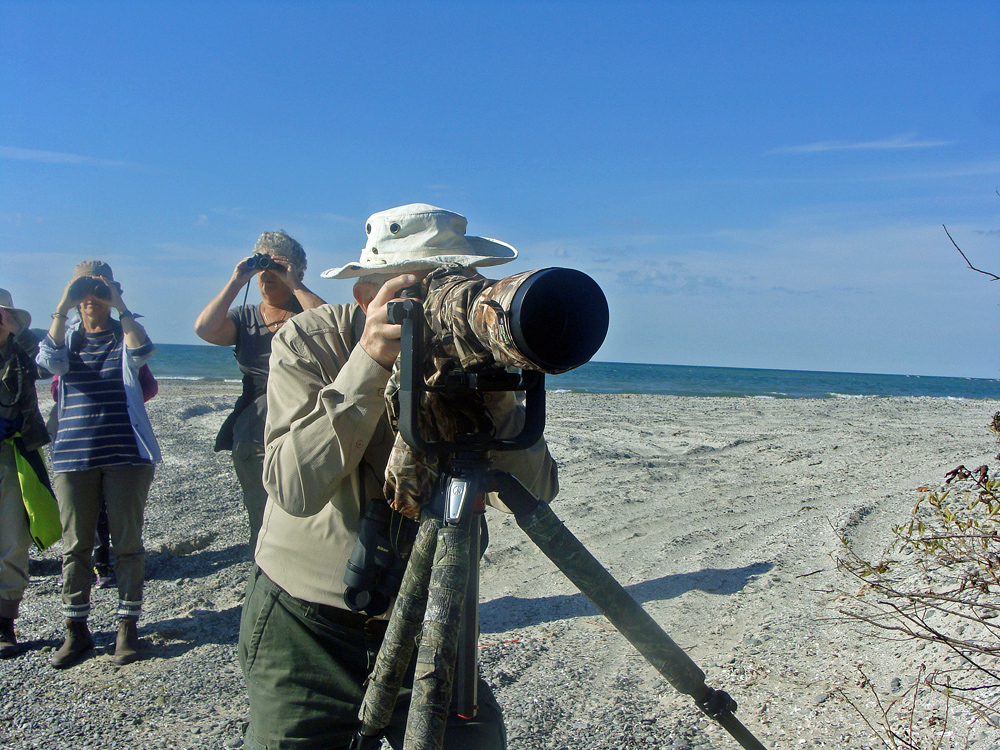 HIKE AT PLEASANT BAY
by Terry Sprague
(photo by Terry Sprague)

Thirty-two species today during a 4 km walk along the Pleasant Bay beach between North Beach Provincial Park and the Pleasant Bay channel. Bird of the day was most certainly the BLUE JAY as they were around us for the entire two and a half hour walk like mosquitoes would be in the spring. An estimated 300-400 individuals, some in flocks of 30 or more, but always a few in sight all the time. Shorebirds were loafing around the channel, comprising one juvenile BAIRD'S SANDPIPER, a LESSER YELLOWLEGS, 1 SEMIPALMATED PLOVER, 12 KILLDEER and 8 LEAST SANDPIPERS . A CASPIAN TERN darted in front of us at one point – somewhat late, although they have been known to linger well into October. Twenty-eight MUTE SWANS were floating around out in Pleasant Bay with 30 CANADA GEESE, and three COMMON MERGANSERS were seen on the shore of Lake Ontario. Good habitat along the trail we followed over the dunes for YELLOW-RUMPED WARBLERS, but only three were seen, along with NORTHERN FLICKER, 2 SONG SPARROWS, a WHITE-BREASTED NUTHATCH, AMERICAN ROBINS and MOURNING DOVES. Early on in the walk, a BELTED KINGFISHER was seen. Eight TURKEY VULTURES kettled above us throughout the walk as though expecting us to keel over from the heat.
---
---
THE WIND TURBINE ISSUE
"Wind turbines don't run on wind, they run on subsidies." - Professor Ross McKitrick
The Prince Edward County Field Naturalists are passionate about nature. It is our club policy to support renewable energy. However, we believe, along with Nature Canada, Ontario Nature and the Suzuki Foundation that wind turbine developments should never be sited in areas where they will cause significant harm to migrating birds, bats and butterflies or destroy the habitat of endangered species.Through the Save Ostrander Point campaign we are opposing the construction of industrial wind turbine development at Ostrander Point, in the Prince Edward County South Shore Important Bird Area. Ostrander Point is in a major migratory pathway and is the home of the endangered Blanding's Turtle and several other species at risk.
Ostrander Point – will it still be a hotspot? Article submitted to Trail and Landscape by Paul Catling, Sheila McKay-Kuja, Brenda Kostiuk, and Allen Kuja: Some of the great ecologists of our time have said that the battle to protect Canadian biodiversity will be won or lost on the land between the protected sites. This was because there are not enough of them and they are not connected. Some hoped that we could start with the protected areas and add to that base with increased protective attitudes on the part of landowners led by exemplary protection of natural resources by governments. Ostrander Point is a key location in this concept of connectivity being a link between Prince Edward Point and Point Petre. The former is second only to the world-renowned Point Pelee National Park in its numbers and diversity of birds. Read more........
For more information and updates on our efforts, click on the link below:

S A V E O S T R A N D E R P O I N T ! ! !
---
PRINCE EDWARD COUNTY FIELD NATURALISTS NEWSLETTERS
To view, click the link below
2016
2015
2014
2013
2012

CORRECTION: On page 2 of the above September, 2014 newsletter, the bottom 2 shorebirds on the left are Greater Yellowlegs, and on the right, a Black-bellied Plover. The PECFN newsletter apologizes for the misprint.

---
OTHER NEWS FROM PECFN
PECFN is always involved in many projects around Prince Edward County. As these projects unfold, news of them will be carried here:
The Rotary Club of Wellington is upgrading 8 km of the Millennium Trail through Wellington for the use of residents and tourists, particularly cyclists, because it is too rough to ride a bike on it. That leaves 41 km more to be done from Carrying Place to Picton. PECFN may be interested in serving on this committee to ensure that habitat preservation and the interests of naturalists are addressed. Read more.........
---
OF INTEREST TO MEMBERS

* * * * * * * * * *

---
RELATED LINKS