The Prince Edward County Field Naturalists, founded in 1997, is an affiliate of Ontario Nature. It provides an educational forum dedicated to the study, promotion, appreciation and conservation of the flora and fauna within Prince Edward County.

S A V E O S T R A N D E R P O I N T ! ! !
OUR GOALS ARE....
Encourage the enjoyment of nature;

Promote public interest in the appreciation and study of nature; and

Advance the conservation and preservation of Prince Edward County's natural resources, habitat and environment.
At monthly meetings, guest speakers introduce a variety of nature related topics that are of interest to club members. All members are encouraged to participate at meetings by sharing their experiences and observations.Regularly scheduled field trips in the vicinity offer members the opportunity to experience various habitats.
(Link to our monthly newsletter at bottom of page)
New! Fabulous Fall Fungi workshops. Scroll to bottom of page for details

---
Past President.......................................................................Cheryl Anderson
President..............................................................................Myrna Wood
Vice-President.......................................................................Sandra Dowds
Membership Secretary .......................................................... Agneta Sand
Treasurer...............................................................................Sheena Kennedy
Ontario Nature Representative.................................................Myrna Wood
Newsletter Editor....................................................................Sandra Dowds
Members At Large: ................................................................Sheila Kuja
Ex-Officio................................................................................Pamela Stagg
---
Membership in PECFN is open to all.
Single: $15.00
Family: $30.00
Student: $5.00
Corporation: $50.00
Contact: Prince Edward County Field Naturalists, P.O. Box 477, Bloomfield, Ontario K0K 1G0
Photo: Wildflower hike at Mountain View on April 15, 2015

---
founders and co-sponsors of the annual Prince Edward County Birding Festival

initiated the Prince Edward Point Important Bird Area (now South Shore IBA)

vegetation mapping of the Massassauga Point Conservation Area

lobbying against the use of Dombind on Prince Edward County roads

involved with other organizations in starting the Prince Edward Point Bird Observatory

participates on committees and panels on conservation oriented issues in Prince Edward County

regular field trips and indoor meetings to heighten awareness of natural history in Prince Edward County
Photo: PECFN members Brian Durrell and Ramesh Pooran photographing wildflowers on Wildflower Hike at Mountain View, led by Molly Mulloy on April 15, 2015
---
* * PECFN Celebrates Award Nomination * *
Kingston Field Naturalists and Quinte Field Naturalists have nominated PECFN for the W.E. Saunders Natural History Award from Ontario Nature. The nomination describes PECFN's commitment to preserving the PEC South Shore IBA in the following terms: "Appealing against the Ostrander Point approval is a David versus Goliath task! The difficulty is immense, but the significance is enormous. – If wind turbines cannot be stopped at Ostrander Point in the heart of an IBA, they are unlikely to be stopped on environmental grounds anywhere in Ontario."
"The leadership qualities demonstrated by the PECFN are amazing. In the face of a giant, this dedicated group analyzes the issues and formulates well organized plans to move forward, always communicating well, and recruiting many skilled people to support its cause. PECFN's campaign has educated many people about the value of caring for our natural environment. They are truly environmental heroes!"
We are humbled by this over the top description of our efforts to Save Ostrander Point and thank KFN and QFN for their support of the cause.

---
Our Next Meeting ! !
Speaker: To be Announced
Topic: To be Announced

Date: Tuesday, September 29, 2015
Time: 7:00 p.m.
Location: Bloomfield Town Hall
---
PECFN INVOLVED IN NEW MILLER PROPERTY PURCHASE
Dr. Robert Clapp and Patti Wolfe, directors with the Hastings Prince Edward Land Trust, receive a $3,000 donation from the Prince Edward County Field Naturalists in support of the Miller Family Nature Reserve. Field Naturalists above include Sheena Kennedy, John Brett, Sandra Dowds, Cheryl Anderson, Bob Simmons and Myrna Wood. Photo courtesy of
www.countylive.ca
.
The $3000 was a gift to PECFN from founding member Joe Eberwein.(deceased)
---
PRINCE EDWARD COUNTY FIELD NATURALISTS NEWSLETTERS
To view, click the link below
CORRECTION: On page 2 of the above September, 2014 newsletter, the bottom 2 shorebirds on the left are Greater Yellowlegs, and on the right, a Black-bellied Plover. The PECFN newsletter apologizes for the misprint.

---
THE WIND TURBINE ISSUE
"Wind turbines don't run on wind, they run on subsidies." - Professor Ross McKitrick
PECFN has been very vocal in regard to its objections to large scale wind farms in Prince Edward County, in particular, the Ostrander Point project, located within the Important Bird Area. Please read the documents below: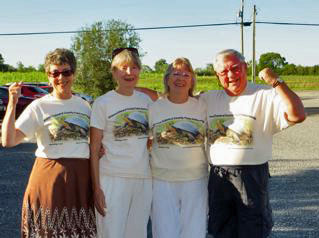 January 13, 2014: (N E W ! )In August, Gilead Power and the Ministry of the Environment appealed the Environmental Review Tribunal decision which revoked the approval of the wind project at Ostrander Point Crown Land….PECFN maintains that the Tribunal was correct in finding that the effects of the construction of this project on the turtle cannot be mitigated….. PECFN will be defending the Tribunal decision on Blanding's Turtle and also asking the Divisional Court to extend legal protection to the Alvar and birds. Read more....

September 26, 2013 Prince Edward County Field Naturalists celebrated their Environmental Tribunal (ERT) win on Tuesday September 24 with a potluck supper at Bloomfield Town Hall. Invited guests and members heard a passionate description of the importance of the Tribunal decision from lawyer, Eric Gillespie. Read more....
July 07, 2013 The Prince Edward County Field Naturalists (PECFN) are very pleased that the Environmental Review Tribunal has revoked the approval of the Ostrander Point wind project. Finally a balance has been struck between the demands for green energy and conserving our environment. Read more....
June 27, 2013 PECFN needs your help to raise the remainder of our legal obligations in the Ostrander Point appeal. The appeal is very important to the County and to the province. It is the first serious appeal based on environmental issues and the first attempt to stop development on Crown land. We appreciate anything you can do to help us. To donate, click HERE
January 12, 2013 Nature Canada, Ontario Nature, and Environment Canada agree: Ostrander Point is the worst possible place for wind turbines. Help the Prince Edward County Field Naturalists win their appeal to the Environmental Tribunal. Please donate now, and spread the word. We have only a short time for our campaign, or this precious resource will be lost forever. For more information, or to donate with PayPal at Save Ostrander Point.
December 24, 2012, OSTRANDER POINT APPROVAL. Myrna Wood, Vice-President of Prince Edward County Field Naturalists (PECFN), announced today that the club will appeal the Ministry of the Environment ruling to allow 9 mammoth wind turbines to be built on Crown Land at Ostrander Point. "We opposed this project from day one; it will be disastrous to wildlife – including endangered species – and the natural habitat. The industrial construction alone will destroy essential habitat for millions of birds and bats." Read more.......
Ostrander Point – will it still be a hotspot? Article submitted to Trail and Landscape by Paul Catling, Sheila McKay-Kuja, Brenda Kostiuk, and Allen Kuja: Some of the great ecologists of our time have said that the battle to protect Canadian biodiversity will be won or lost on the land between the protected sites. This was because there are not enough of them and they are not connected. Some hoped that we could start with the protected areas and add to that base with increased protective attitudes on the part of landowners led by exemplary protection of natural resources by governments. Ostrander Point is a key location in this concept of connectivity being a link between Prince Edward Point and Point Petre. The former is second only to the world-renowned Point Pelee National Park in its numbers and diversity of birds. Read more........
Submission to EBR 011-5239 Gilead Power Project Approval from the Prince Edward County Field Naturalists and the Prince Edward Point Bird Observatory: Prince Edward County Field Naturalists and Prince Edward Point Bird Observatory object to the approval of the Gilead Power wind project at Ostrander Point as well as the ESA permit to kill, harm, harass and destroy habitat of Blanding's Turtle and Whip-Poor-Will. The two most important reasons why this site should not be industrialized. The migration monitoring data from PEPtBO suggests that approximately 12 million songbirds fly through the area from Presqu'ile Point in the west to Wolfe Island in the east during migration. The spring migration consists mostly of passerines, while the fall migration also includes hawks and owls. Read more.........
We have been anxiously waiting for word on the Gilead Power wind project at Ostrander Point and there has been none. Hanging over our heads was the prospect of having only 15 days to mount an appeal, find a lawyer and fundraise to pay for it! We have 1) organized an initial coalition of Ontario Nature, Nature Canada, and local naturalists with a connection to our IBA; 2) talked to an environmental lawyer and received a proposal for an initial review and strategy and a budget for an appeal if it is needed. In order to be prepared for the worst case scenario of an approval for Ostrander Point we need to raise $3000 to retain the legal firm to do a preliminary review of information and preparation of the firm's strategy for an ERT appeal and the key steps required to put the appeal in place. We are attaching a pledge form for this purpose. Read more........
Ostrander Point Wind Energy Park Proposal comments from National Audubon Society: On behalf of National Audubon Society representing 456 active local chapters and 408,536 members,................Audubon's mission is to protect birds, other wildlife and their habitats, and our comments focus on the potential impacts to those........ National Audubon strongly supports the development of clean alternative sources of energy, including wind power, when properly sited so as to minimize risks to birds and their essential habitat. The Ostrander Point project fails to meet the standard of being properly sited, imposing unnecessary risks to many species of birds and degrading one of the most important bird areas in the world. As a result, we are strongly opposed to the development of this specific project and ask that the Ministry turn down the application at this site. Read more.......
Submission to EBR 011-5239 Gilead Power Project Approval from Nature Canada and Ontario Nature: Nature Canada and Ontario Nature respectfully request the Ontario Ministry of the Environment to reject the application by Gilead Power Inc. for a Renewable Energy Approval Permit for a proposed wind energy project at Ostrander Point Crown Land Block (EBR 011-5239). Ostrander Point is in the heart of the globally-significant Prince Edward County South Shore Important Bird Area, and is well-known for its significance to migrating and breeding birds. A wind energy plant at this location poses a high and permanent risk to plant life, animal life and the natural environment. This project would damage the reputation of the Green Energy Act, and undermine the most important non-governmental site-based collaborative conservation program for birds on earth. Read more........
Overview of Environmental Reports for the Ostrander Point Wind Energy Park project (011-5239) from Martin Scott of The Royal Society for the Protection of Birds, Scotland:
In December 2011 I met with Ted Cheskey from Nature Canada and discussed renewable energy developments in general, with a focus on the Ostrander Point proposal in Ontario. I currently work for RSPB, Europe's largest NGO with over a million members, where a significant part of my role has been appraising wind developments. These vary in size and scale but include the largest proposal in Europe at the time. On a voluntary basis I agreed to provide feedback to Nature Canada on the proposal from a Scottish perspective – Scotland being seen as leading the drive for world renewables, but with a strong planning and EIA process..........Though a relatively small windfarm proposal, just 20MW, the development is located in an area of high ecological sensitivity. I echo the grave concerns given by Nature Canada in letter of November 20th 2010.
Read more.........
Letter commenting on the WPD White Pines Industrial Turbine Project in South Marysburgh: Twelve of the proposed turbines will be located within the Prince Edward County South Shore Important Bird Area. Eight turbines are planned on the northern border of the IBA. This IBA has been designated a globally significant IBA under the congregatory (waterfowl) species category and nationally significant under the threatened species category. During spring and fall, the geographical and habitat features of the peninsula that forms Prince Edward County act as a funnel for birds on migration. Read more.........
---
OTHER NEWS FROM PECFN
PECFN is always involved in many projects around Prince Edward County. As these projects unfold, news of them will be carried here:
The Rotary Club of Wellington is upgrading 8 km of the Millennium Trail through Wellington for the use of residents and tourists, particularly cyclists, because it is too rough to ride a bike on it. That leaves 41 km more to be done from Carrying Place to Picton. PECFN may be interested in serving on this committee to ensure that habitat preservation and the interests of naturalists are addressed. Read more.........
---
---
OF INTEREST TO MEMBERS

FABULOUS FALL FUNGI
Workshops 2015
Queen's University, Kingston
Session 1:Sept. 29 to Oct. 02 (almost full)

Session 2: Oct. 06 to Oct. 09 (almost full)

Note: The above workshops are almost full, so a third has been added for Sept 08 to Sept 11

RELATED LINKS