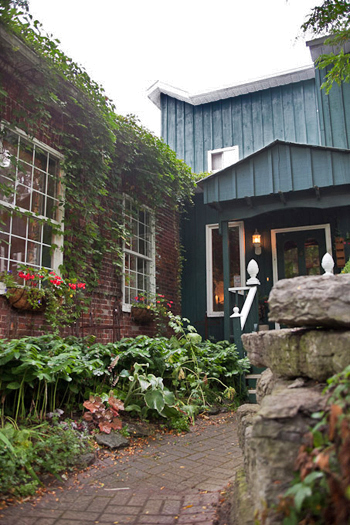 HISTORY & CHARM
Built in the style of an old Ontario Inn, Jackson's Falls Country Inn combines the personalized service of a B & B, with the privacy and spaciousness of a country inn. Each room is individually furnished with antiques including reading chairs and lamps and all have ensuite facilities. For your complete relaxation, amenities include a wraparound porch, and a Jacuzzi. A separate fridge is available for guest use.
The Coach House offers standalone accommodation. The 1870 schoolhouse, featuring original blackboards and light fixtures, is a common area for guests only. This former schoolhouse was once one of many dozens one room schools scattered around the countryside prior to the 1960s, before the move to more centralized township schools.
Whether you are relaxing with a book in front of the fire, or having a group dinner with friends, the 20' x 30' school room provides a unique and cozy atmosphere in which to unwind.
Planning a family/class reunion, cycling tour, small wedding, small business retreat, or another group getaway? We can accommodate groups of 8 to 24. Guests will appreciate our high speed Internet.
---
COUNTY IS A PREMIER BIRDING LOCATION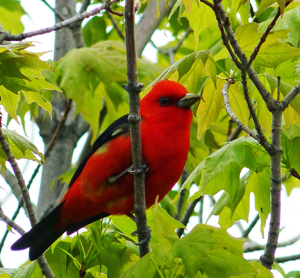 Because of its location in eastern Lake Ontario, Prince Edward County attracts more spring migrants than any other location on the north shore of Lake Ontario. There is excellent birding right on site, or take the 20-minute drive to Prince Edward Point and experience the phenomenal fallout of migrating warblers, thrushes and flycatchers in May during the annual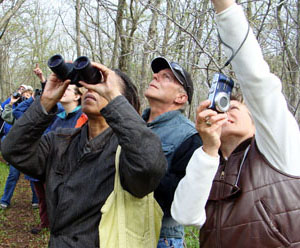 Spring Birding Festival. Over 350 species of birds have been recorded in our area, most of which occur at this diminutive point of land at the southeastern tip of the County. You will be amazed as you stroll the groomed trails in the Point Traverse Woods and be surrounded by over 25 warbler species, thrushes, flycatchers, vireos and tanagers. Or, visit in the fall and see the return migration of these birds, and watch the fall banding of tiny Northern Saw-whet Owls as they migrate through. Prince Edward Point holds the record for the highest number of Saw-whet Owls banded anywhere in North America. If you are fortunate enough to be here in the winter, you may see one of close to 20 wintering Bald Eagles coursing up and down the Black River, and marvel at the population of wintyer birds.
---
OTHER ATTRACTIONS IN THE AREA


After sampling the excellent birding opportunities, be sure to check out some of the other features in the area. Sandbanks Provincial Park, containing the largest baymouth sand bar separating fresh water in the world, is only a few minutes away. Lake-on-the-Mountain, a geological phenomenon known as a collapse doline, is just a ten minute drive. Within a short bicycle ride is the Black River Cheese Factory that has served the public its famous cheese since 1901. Passing through a bucolic wooded arch of deciduous trees, you will arrive at Rutherford-Stevens Lookout for a panoramic view over Smith's Bay toward Waupoos Island. Or, travel in the opposite direction to the historic village of Milford, a one time bustling centre containing numerous saw and grist mills. There is lots to do when you choose Jackson's Falls Country Inn as your base for adventure.
---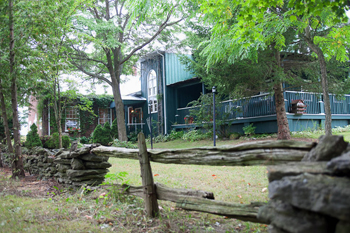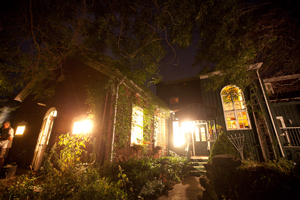 10 minutes south of Picton
1768 County Rd. #17, R.R.#2 Milford, Ontario K0K 2P0
Lee Arden Lewis, Hostess
613-476-8576 (Inn)
613-661-4078 (cell)
Click below for the:
* * JACKSON'S FALLS COUNTRY INN website * *
---