BIRD FEEDER ACCESSORIES
Brought to you by Custom Wrought Iron By Design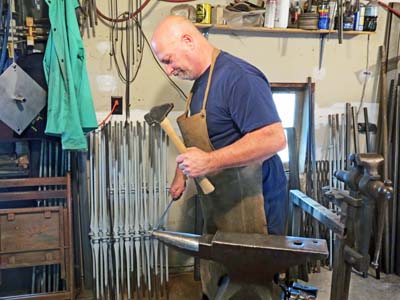 Jeff Haffner of Napanee is a birder, a welder, and a photographer. Combine those three attributes and there is no limit to the ideas he may come up with when it comes to customer products. As an experienced birder for some 40 years and who has a bevy of backyard bird feeders, he is familiar with what backyard birds like, what customers are looking for, and the shortcomings of a few of the commercially made products. The best part is, if you tell him exactly what you want, he will build it for you.
The Napanee resident, a blacksmith for more than a decade and a welder for over 20 years, has answered requests to fashion wrought iron hand rails and railings, chandeliers, even peony hoops and camera accessories. He also does iron reproductions for re-enactments for the Civil War, Revolutionary War and the fur trapper era, like fire irons, hooks for camp setup, pokers, grills, Braziers, etc.

And, now – bird feeder poles and accessories. The bird feeder pole on the right comes in three different styles. This one pictured is "The Ultimate" featuring adjustable height from four to eight feet, hangers to accommodate four feeders, squirrel guard and removable base. The base contains four holes so it can be screwed onto a sundeck, or accommodate four anchor pegs that can be driven into the ground.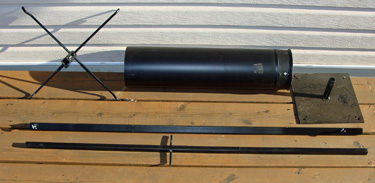 Price $99.00 + GST
Note: optional V-assembly with 4 hooks: $10 extra on the Ultimate, Bird Buddy & Basic. If purchased separately: $22.00 (photo below, on left). Provides improved visibility of feeders.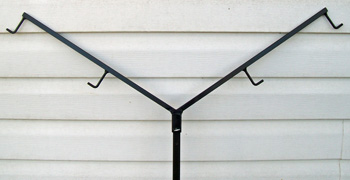 The "Bird Buddy": 4 hooks, adjustable from four to eight feet. Price: $65.00 + GST
The "Basic": 2 hooks, adjustable from four to eight feet. Price: $55.00 + GST
All the above feeder pole sections detach easily for convenient storage
---
Also available from Custom Wrought Iron by Design!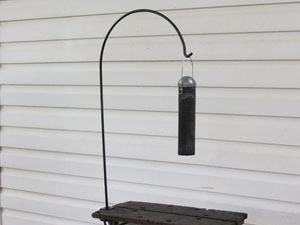 Clamp on hanger....clamp to hook height, 24". Price: $18.00 + GST
Use this bird feeder pole wherever you have a sundeck railing, or a picnic table, or wherever there is a convenient spot where you would like to see a feeder and the guests that come to it.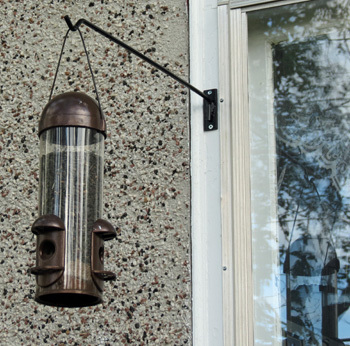 Window hanger: 23" long, Price: $14.00 + GST
Birds are a lot more fun when they are viewed close up. Mount this bird feeder hanger at your favourite window, and watch the action!
---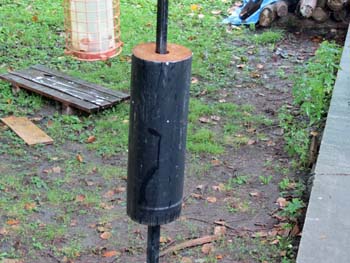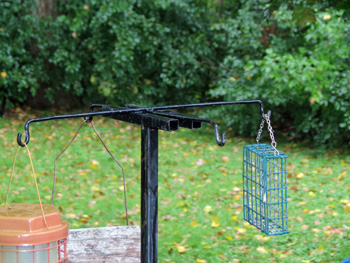 The squirrel guard (left) is available as a separate item for $29.00 + GST. The added length will ensure that neither squirrels nor raccoons will access your feeders.
---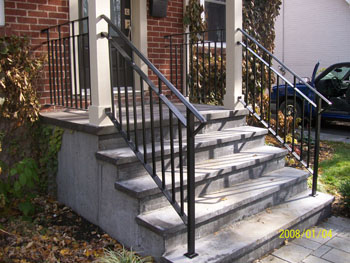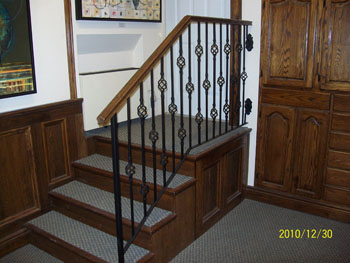 In addition to bird feeders, Custom Wrought Iron by Design can create attractive hand rails for either indoor or outdoor use.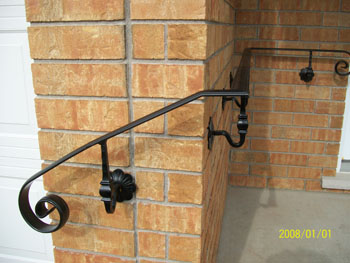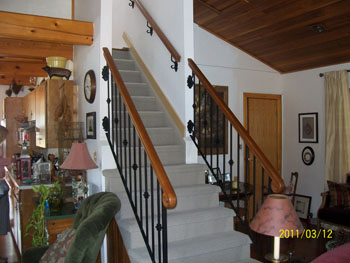 ---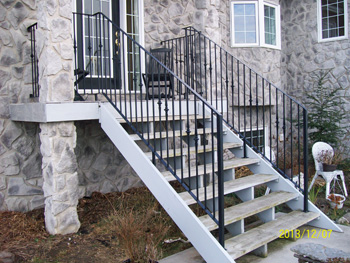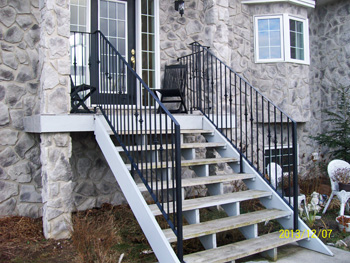 Contact Custom Wrought Iron by Design in Napanee today!
(moderate delivery or shipping charges. Local delivery free)
245 East Street, Napanee, Ontario K7R 1S9
613-483-0588