No fee parking at the above launches although honour fees are charged for boat launch usage, and a fee is charged if the government boat launch is used.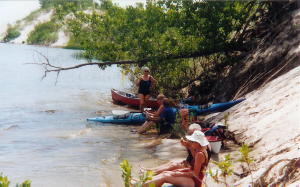 Description: West Lake is separated from Lake Ontario by the beautiful dunes of Sandbanks Provincial Park. Stretching for 8 km from the Sandbanks parking lot to Wellington, these dunes were once used as a seasonal fishing station by the St. Lawrence Iroquois during 1300 to 1600 AD . Numerous pottery shards, mindens (fish dumps) and stone net sinkers have been found as evidence. The dunes, some of them reaching as high as 25 metres, contain numerous plants, adapted to living in the harsh, dry conditions, including hoary puccoon, wormwood, marram grass and starry false Solomon's seal. A low wet area known as a panne near the Dunes Beach Day Use Area contains a number of site-specific plants including brook lobelia, fringed gentian, twayblade and ladies tresses.

This lake is a very enjoyable, pleasant and scenic paddle. The most pleasant, of course, is along the dunes. If accessing West Lake from the Wellington end, a suggested route would be to follow the north shore of West Lake toward the Bloomfield Marsh and explore the area around Garrett Island, an extremely scenic part of the lake. Garrett Island is the home of Camp Trillium, a special summer retreat for kids with cancer. From here, one can then head for the dunes and follow the sandy shoreline down to the Dunes Beach Area. If accessing the lake from Kleinsteuber boat launch, a paddle around Sheba's Island or to the north end of the lake can also be rewarding.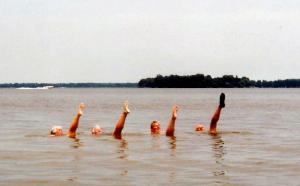 Paddlers should be aware that this lake becomes very busy in the summer with speedboats and personal watercraft. However, if one stays near shore, there should be no problems. Whether it's for just a couple of hours, or you wish to make a day trip out of it, West Lake will provide a memorable experience.
Further information:
Terry Sprague
NatureStuff Tours
23 Sprague Road
R.R. # 1
Demorestville, Ontario
K0K 1W0
613-476-5072
www.naturestuff.net
---

PHOTO CREDITS
1) Members of the Quinte Paddlers and Hikers relax along the sand dunes at West Lake. This paddle has been an annual event for this group for several years.
Photo by Terry Sprague


2) You just never know what members of the Quinte Paddlers and Hikers are apt to do when you are walking around with a camera! Here, members (l to r) Pauline Sprague (Belleville), Susan Withers (Napanee), Bev. Lewis (Belleville), and George West (Bayside) perform a synchronized swim at West Lake during a lunch break.
Photo by Terry Sprague


---