Written by Terry Spraque
Jan 03, 2007 at 11:34 PM
THE MILLENNIUM TRAIL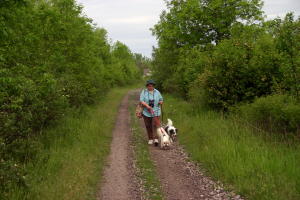 I have this thing about trains. Always have had, ever since I was a kid. I like the sound of the engine, the sound of the wheels on the track, the smell of the diesel smoke. When I used to work at the Quinte Conservation office in Belleville, I always made it a point every noon to leave the office and walk a hiking trail back to the railway overpass in hopes of timing it just right for one of the several trains which passed by each day. Usually I was lucky. It was therefore with some sadness when the last train left Prince Edward County, and the tracks were removed in the late 1990s. But its passing made it possible for many of us to begin enjoying another activity - walking. Many have already discovered the potential of the railway bed between Carrying Place and Picton and some have walked it more than once. Nowhere are the startling differences of Prince Edward County more apparent than along the 48 kilometres that comprise the abandoned railway bed.
I have walked the entire 48-km stretch of the Millennium Trail on several occasions. In fact, in recent years, my wife and I have made it an annual event, to walk it in both directions What we have found so far is a world indescribably gorgeous, quiet and for the most part, remote. We have passed through the heart of farming communities, villages and have explored areas which we are sure most County residents are not even aware exist. One such 8-km stretch we walked in one sweep runs from the north shore of Consecon Lake to Niles Corners. The walk was rich in plant life as wild grapes, bladder campion, herb-Robert, milkweed, cinquefoil and Virginia creeper vied for attention. At one point the trail passes through a wooded swamp at Hillier's Slab Creek where the songs of wood thrushes, rose-breasted grosbeaks, wood pewees, and red-eyed vireos echoed through the overhanging canopy. What a treat to walk through this vegetated tunnel of bird life and emerge on the other side knowing that few people other than train operators had ever plied its depths. Anyone contemplating such a walk would enjoy it more if arrangements could be made to have someone waiting at the other end of their planned stretch, to eliminate the necessity to backtrack. As some of the areas are rougher than others due to copious amounts of crushed rock, good hiking gear is recommended, such as proper hiking boots. But other stretches have been well groomed and are ideal for bicyclists.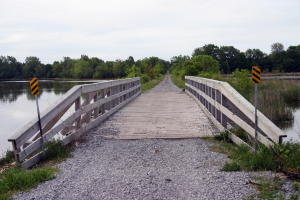 The trail has been designated as multi-use and is open to ATV enthusiasts as well as snowmobiling. A bylaw governing the Trail's use prohibits cars and trucks. In fact, the local 425 member Prince Edward County Trail Riders Snowmobile Club has been responsible for much of the maintenance along the trail and even generated funds and volunteers to replace bridges over Consecon Lake and Lane Creek in Wellington, as well as a bridge beside the Wellington on the Lake Golf Course.

Usage of the trail by motorized recreational vehicles is restricted to the hours between 7:00 a.m. and 11:00 p.m. and speed to a maximum of 50 kilometres per hour in rural areas and 30 kilometres per hour in the urban areas (Wellington, Picton, and Bloomfield).


The Millennium Trail is only its developmental stages at this point, so parking is restricted to those areas that have always existed. If starting the trail from the Carrying Place end, access may be gained to it by following Shore Road which runs west, parallel to the Murray Canal. There is lots of space to park at the start of the trail here. Parking is also available at many of the locations where the trail crosses the roads and highway, but consideration must be used when parking in these areas, to ensure that your vehicle is well off the travelled portion of the roads, you are not blocking access routes to fields and private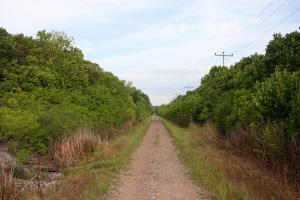 property, and that permission is obtained whenever possible. There is also plenty of parking at the Picton end where a spur ends at Lake Street, near where the old train station used to exist (now Evans Lumber). Officially, the trail begins at Highway 49, beside the Picton Golf Course, but parking is very limited here. This part of the railway once continued as far as Essroc Cement, but this last section from Highway 49 east to the cement plant is not maintained and almost impenetrable in places.
A Power Point presentation is being prepared on the Millennium Trail and its many offerings to outdoor enthusiasts, and should be ready by winter of 2006. We also hope to have a descriptive brochure out in the future. While the term multi use conjures up visions of constant conflicts among users, the Millennium Trail is a good example of how different user groups have worked together cooperatively in this case to create a recreational trail that can be enjoyed by everybody.

---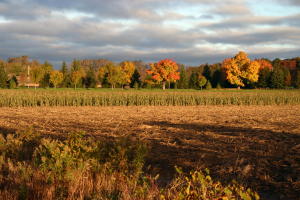 PHOTO CREDITS:
1) Passing through Consecon, the Millennium Trail crosses Salem Road and heads toward Consecon Lake
photo by Terry Sprague (2005)
2) The local snowmobile club was responsible for totally rebuilding this bridge on the causeway over Consecon Lake
photo by Terry Sprague (2005)

3) The trail at Hillier's Station Road is flanked by lilacs, green in this photo, but alive with colour and fragrance in late May
photo by Terry Sprague (2005)

4) Autumn is an especially gorgeous time of the year to walk the Millennium Trail. This scene off Mallory Road east of Bloomfield is typical of agricultural fields the trail passes over on its trek across the county
photo by Terry Sprague (2005)


---
Last Updated ( Jan 03, 2018 at 02:44 PM )
© Nature Stuff. All rights reserved.

February 24, 2018 3:01 am