THE GLENWOOD CEMETERY COMPANY
"Every Life is worth living and remembering always"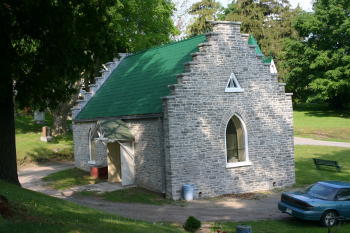 These poignant words greet every visitor as they enter picturesque Glenwood Cemetery in Picton. Inscribed in stone, the words beckon to the visitor to look ahead of them where peaceful, rolling hills, an historic chapel, a pond and attractive blend of conifers and deciduous trees provide a peaceful backdrop to over 11,500 grave sites. Incorporated in 1871, it's an urban forest, a parkland, a wildlife habitat, and a final resting place of early settlers and their descendants who played a major role in shaping the history of Prince Edward County.
The over 11,500 monuments of lives lived, range from a simple, black boulder that pays tribute to an eight year old boy who died in 1898, to the impressive Kinney Mausoleum, regarded as the finest of its kind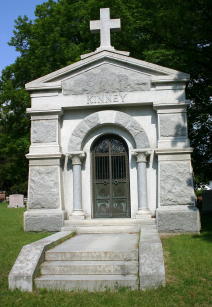 between Toronto and Montreal. There is one area fondly known as "Cannery Row," a line of imposing monuments attesting to the affluence and position in the county of some of the early canning pioneers. There is the very old and very new as burials continue to be performed in this strikingly beautiful cemetery, located in the heart of town. Adding to its park like setting is Marsh Creek that cascades down an escarpment and wends its way to Picton Bay.
It is this unique blend of both natural history and human history that has contributed to the cemetery's popularity as a place of tranquility and well being. Roadways meander over hills, beside the creek, and along the escarpment where rose-breasted grosbeaks and wood thrushes proclaim their nesting territory. Marsh marigolds carpeting the slower moving areas of the creek dazzle the eyes of those who enter the cemetery in spring, while goldenrods and New England aster vie for attention in areas intentionally left natural as a further effort to maintain this unique blend of the natural and the historical.
In recent years, the small volunteer Board of Directors has undertaken an ambitious campaign to restore the grounds and buildings of the cemetery. We want to show how you can make a difference toward that goal by either a straight cash donation or by paying a lasting tribute to someone by assisting in the restoration efforts with any of several memorial and tribute gifts, such as a section of Victorian fencing, dedicating a bench, or a birdbath, or an urn, or through adopting an existing tree, or planting a new tree
(photos by Terry Sprague)
---
---
For more information
The Glenwood Cemetery Company
47 Ferguson Street
Picton, Ontario
K0K 2T0
Telephone: 613-476-3511
BE SURE TO CHECK OUT THEIR NEW WEBSITE !