PICTON FARM SUPPLY
(contact information at bottom of page)
BAT HOUSES FOR BATS - the best insect control we can provide !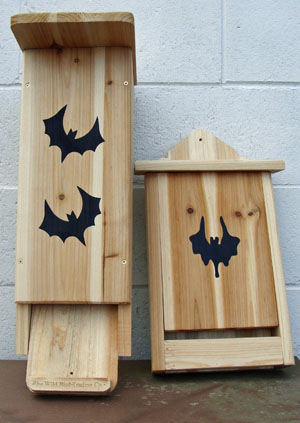 Forget the myths and fables about bats! Bats are not dirty, they are not blind, they don't suck blood, and they do not have a fondness for your hair! Instead, welcome them and encourage them to your premises by providing them with a home, from Picton Farm Supply. Prince Edward County's most common species, the Little Brown Bat, devours up to half its weight in mosquitoes every night! Because bats hunt at night, they don't rely on their eyesight to find insects, but actually "see" with their ears, by using echolocation. The high frequency notes (that we can't hear) bounce off obstacles and insects in their path. The bats are able to determine the type, size and location of their prey. Picton Farm Supply's selection of bat houses are specially designed to provide the necessary shelter for these small flying mammals. Be sure to mount your box 15 feet or so off the ground where it will receive at least 7-10 hours of direct sunlight. The box never needs cleaning as the droppings simply fall out onto the ground below. Get yours today!
Large Bat House (left): $51.45 Small Bat House (right): $29.95
---
SPRING INTO SPRING WITH PICTON FARM SUPPLY'S LINE OF GARDENING PRODUCTS FOR 2013 !
The rising temperatures outside are a clear indication that spring has definitely arrived, and we are now in the planting season. Be sure to drop into Picton Farm Supply for your gardening needs this month. Whether its garden seeds, flower seeds or a variety of seed potatoes, Picton Farm Supply can help you out.
Stay tuned to this page for further announcements on gardening supplies, garden accents, nest boxes - everything you need to enhance and beautify your premises.
* * * * * * *
---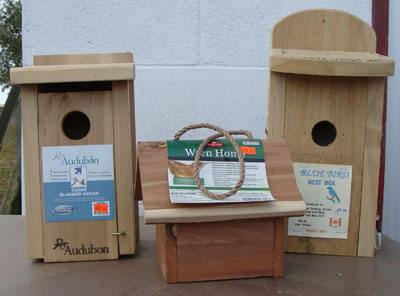 Attract birds to your backyard by putting up a nest box. These nest boxes, depending on where they are placed, will attract anything from Tree Swallows to Eastern Bluebirds. Or, attract a pair of feisty little House Wrens with a smaller box, built especially to their specifications. These nest boxes are built with the proper sized entrance holes, drainage and ventilation.....and, no perch to attract predators. Cavity nesting birds don't need perches, so why provide them on nest boxes?
Audubon Box: $28.50 Bluebird House: $29.50 Wren House: $15.50
Picton Farm Supply - where good prices, excellent selection and customer service have always been our our motto
---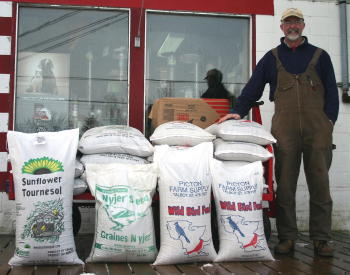 You can go into almost any store these days and pick up a bar of rendered suet for birds. But if you want a peanut butter suet cake, or a fruit and nut, or raisin crunch, or for those slow days at the bird feeder - high energy suet bars, then you have to go to Picton Farm Supply. It is about the first thing you see upon entering the store at 179 Talbot Street, just on the northern outskirts of town. Tray upon tray of suet cakes - a variety enough to rival the racks of chocolate bars at the local convenience store.
Picton Farm Supply celebrated its 25th year in business in 2012. For a facility that one would expect to spend more time concentrating its attention to feed mixes and agricultural supplies for local farmers, one might think that stocking supplies for birders would be a low priority. However, owner, Bryce Cronk, saw the exploding interest in birds, and especially bird feeding, years ago. Birding is North America's second most popular hobby, and Bryce was determined to get in on the ground floor. The gamble paid off. There is no other location in Prince Edward County that stocks as many condiments for birds and birders as Picton Farm Supply.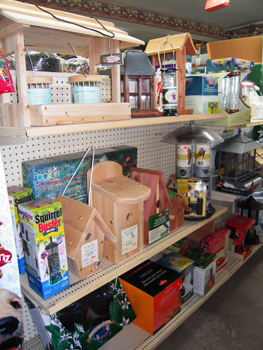 Once your eyes begin to travel beyond the trays of suet cakes, you soon begin to appreciate the burgeoning popularity of birds. Tucked in a corner of the store beyond the work clothes, halters, bag balm and treatments for mastitis, are bird feeders - at least a hundred of them - from basic garden variety models to the creme de la creme of bird feeders, the Droll Yankees. Although bird feeders are available in Picton in hardware stores, and even supermarkets, Bryce is an exclusive dealer in the Picton area for this popular line of feeders, so well built, they are guaranteed for a lifetime.
However, it is the bird feed that has made Picton Farm Supply the county's first choice when seeking out locations from which to purchase feed. Bryce carefully and attentively listens to his customers when deciding on a formula for his premium mixes, and takes a dim view of so-called budget feeds. Bryce knows that people do not feed birds because they have to, but feed birds because they are eager to have the best variety of birdlife they can around their homes. "It doesn't make sense to offer a budget feed if you want something better than budget birds at your feeders." Bryce listened to his customers, did his homework and came up with a mix that is not only black with sunflower seed - both black oil seed and large striped seed - but all the necessary ingredients, including peanuts, to attract a colourful clientele.
Quantity is no object. If you are just starting out with a bird feeder and want to experiment with just a small plastic bag of mixed feed, that can be arranged as he will sell you whatever amount you want. If you multi-task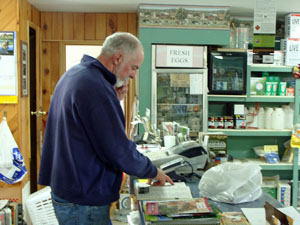 with many feeders, he will sell you the jumbo bag, weighing in at a hefty 66 pounds. All ingredients in his popular mix can be purchased separately as well, including the option of buying bags of shelled peanuts or peanuts in the shell, or Nyjer seed. You can purchase a small bag of peanuts so small as to fit in your hand or a large bag that may require shuffling a few things around in your trunk, just to get it in.
With summer feeding now as popular as winter feeding, Bryce says he now sells many tons of bird feed a year. "I think we actually sell more feed in the summer than we do in the winter," he laughs.
The importance of offering high quality mixed feed at our feeders, free from fillers and questionable seeds, cannot be emphasized enough. Disappearing are the days when we seek out budget feeds from big box stores that need to move their product quickly, and have no expertise in dealing with today's sophisticated bird conscious public. Bird feeding is big business today, and serious birders take their hobby seriously. Bryce Cronk and his staff at Picton Farm Supply enjoy nothing more than swapping stories and discussing your needs.
---
PICTON FARM SUPPLY'S FEATURED ITEMS FOR THIS MONTH !!
Nyjer Seed (25 lb.) $21.75

(50 lb. $38.50!)

Black Oil Sunflower Seed (50 lb.) $25.95

Striped Sunflower Seed (50 lb.) $ 24.50
Proplan Adult Dog Food 14/15 kg bags at $52.50
---
We Stock The Whole Family of Squirrel Buster Feeders !
Mini: $22.50
Peanut: $52.50
Finch/Nyjer: $46.50
Classic: $46.50
Plus: $82.50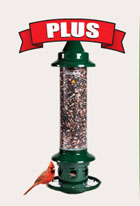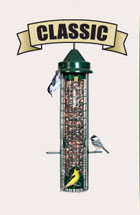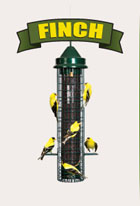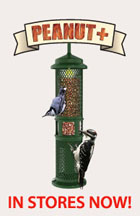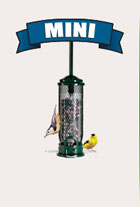 *
*
******
Picton Farm Supply's wild bird feed and sunflower seed is also available at The County Depot, located at the corner of Highway 33 and Salem Road, at Consecon. Open Tuesday, Thursday and Saturday. Phone 613-394-5818

Picton Farm Supply
179 Talbot Street
R.R. # 8,
Picton Ontario
K0K 2T0
Phone 613-476-7507
NEW to Picton Farm Supply - we have an email address and would love to respond to any questions regarding the feeders we have in stock, feeders we are able to order, etc. Feel free to email us at with any questions you may have

---