SUNRISE COTTAGE RESORT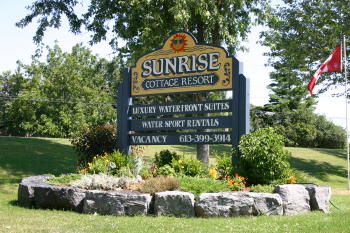 The endless sandy beaches and spectacular dunes of Sandbanks Provincial Park, are right on the horizon from your cottage at beautiful Sunrise Cottage Resort, located just east of Wellington. Sandbanks is one of the busiest provincial parks in Ontario, but there's more to Sandbanks than just sun, sand, swimming and surfing. Incredibly, there is nature among the hills of sand where animals and plants with unique adaptations to the Sahara Desert like conditions not only thrive, but flourish.
Rent a small motor boat or a kayak from Sunrise Cottage Resort, and travel the short distance across West Lake to the sand spit, and marvel at this creation of Nature. It was formed nearly 12,000 years ago as prevailing southwesterly winds carried deposits from the retreat of the Wisconsin Glacier, and sculpted this 8-kilometre sand spit, the largest sand dune baymouth bar separating fresh water in the world. In the marshy fringes along the edge of the dunes, you may find pied pilled grebes gasping their hollow calls, or an energetic marsh wren nervously jumping from cattail to cattail.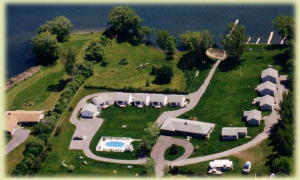 At Sunrise Cottage Resort, you have your choice of several accommodations from six pool side cottages to five lakeside cottages, depending on your choice of view. Or you can rent the Lakeview Cottager, a spacious 38' fully equipped park model trailer. All cottages are equipped with everything you need to enjoy your vacation, including full size fridge, microwave, cable TV, deck and patio furniture, propane BBQ, and camp fire pit. All have electric heat for those cool summer nights and most have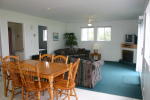 air conditioning when summer really cranks up the heat. A complimentary Sandbanks Provincial Park day pass is even included with your cottage rental!
From Sunrise Cottage Resort, it is only a short drive by road to the park itself. A parking lot in the West Lake Sector of this 3,000-acre park will allow nature enthusiasts to wander up the dunes and see an ancient white cedar forest. These preserved remains of huge stumps have amazed naturalists since the migrating dunes of the early 1920s covered and suffocated the massive white cedar forest that once blanketed these dunes. There is lots of history here, dating back to the summer encampments of the St. Lawrence Iroquois. Fascinating stories, waiting to be told by park naturalists during their summer interpretive programs.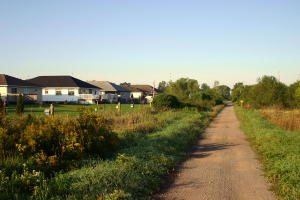 From the elusive wolf spider and the secretive antlion who make their homes in the sand, to the golden bouquets of hoary puccoon and fern like foliage of wormwood, an exciting world of nature, found nowhere else in the local area, is here for both the naturalist and casual hiker.
There are lots of opportunities for the outdoor enthusiast during their stay at Sunrise Cottage Resort. Within walking distance north of the cottages is the popular Millennium Trail, an historic abandoned railway bed that now invites hikers and other outdoor lovers on a cross county jaunt from Picton to the county's north boundary at Carrying Place. It is easy to access the trail at any location where it crosses highways and secondary roads, and enjoy either a short two-kilometre hike, or if you are up for it, the entire 52-kilometre length. The trail provides access to a plethora of scenic vistas from wooded havens and wetlands to agricultural in progress as you wander through the heart of the agricultural community.
Naturalists will feel right at home at Sunrise Cottage Resort, enjoying the presence of ducks as they come ashore to beg for food, bird feeders, nest boxes, as well as a goldfish/Koi pond on the property. Hiking, kayaking and canoeing, museums, wineries, and participatory events such as the Prince Edward County Birding Festival - it's all readily accessible from your accommodations at Sunrise Cottage Resort, open from April 12th to December 10th.
Sunrise Cottage Resort is located at 15841 Loyalist Parkway (Highway 33), just two kilometres east of Wellington. For further information on cottages available and rates, please visit the SUNRISE COTTAGE RESORT website.