GIANT SWALLOWTAILS ARRIVE IN PRINCE EDWARD COUNTY
In Prince Edward County, as anywhere, wildlife is dynamic. Species decline in numbers, or disappear altogether. New species move in and become established. Among these in recent years has been the orchard oriole, red-bellied woodpecker, black bear and more recently, the fisher.
Most of us are familiar with the tiger swallowtail butterfly, reminding us that butterflies come in sizes other than the very small. Well, there's a new kid in town, and it created quite a stir in 2007. Perhaps the term "kid" is a misnomer, as this butterfly - the Giant Swallowtail, is among the largest in North America Papilio cresphontes Cramer. Its total wingspan is a good 6.5 inches.
The normal range of the giant swallowtail extends from Central and South America, north to just into Ontario. In Florida, for example, it is very common throughout the entire state, and active throughout the year, except in January and February. It is only this year that the Giant Swallowtail has made marked inroads into Prince Edward County. In September, bird banders and volunteers located no fewer than 50 caterpillars around the Prince Edward Point Bird Observatory and nearby Point Traverse. Its appearance at Point Traverse was expected since that area, just north of Prince Edward Point itself, harbours large patches of Prickly Ash, one of several plant species that attract Giant Swallowtails, for it is the leaves that their caterpillars eat. The adults feed on the nectar of a number of flowering plants including azalea, swamp milkweed, goldenrod, bouncing bet and Dame's rocket, the latter two species common roadside flowers.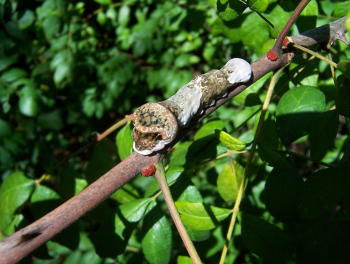 While the adult swallowtail is wonderfully exotic in appearance, due to its size and colouration, the larva is no less interesting. The larvae progress through five instars or developmental stages in their life, usually pupating on the host plant. What is most interesting is their line of defense, defending themselves through cryptic colouration. And they have found just the item to imitate in which predators are not likely to be interested - a bird dropping. These clever larvae also employ a backup system - chemical warfare - if cryptic colouration fails to work for them. They possess an osmeterium, in simple language - an orange or reddish Y-shaped eversible gland that is located mid-dorsally behind the head. When attacked by a small predator, the larva extrudes the gland and attempts to wipe it against the attacker. This osmeterium produces a highly noxious, pungent cauldron of chemicals that smells like rancid butter. Ants and spiders are repelled by the noxious mixture. While birds tend not to be repelled by these secretions, it is thought that the larvae may also contain internal toxins, obtained from their food plants, that birds find unpleasant. Not unlike the cardiac glycoside that Monarch butterflies carry with them from the larval stage through to adulthood. Older swallowtail instars resemble snakes, perhaps another defense tactic that may work in their favour.
In more southern regions of its distribution, the larva feeds on citrus, where it has been given the unflattering nickname of "orange dog." This might explain the butterfly's attraction to prickly ash which can also produce a citrusy smell. It comes by it quite honestly, says a Thomasburg resident who has also seen giant swallowtails in that area, 30 minutes north of Belleville, reminding us that prickly ash is a member of the Rue family, along with oranges and lemons, etc.
If the larvae succeed in surviving, the swallowtail ultimately takes its development one step further, and turns into a chrysalis. It is not the attractive gold studded lime-green work of art of the Monarch butterfly, but rather, a nondescript brown structure, attached to the host plant, or some other nearby object.
And there it will overwinter. The question is, will these predominantly southern species survive our winters in their chrysalises, or will the tiny structures become sealed coffins. As our winters become progressively milder, chances are very good that the success rate may be reasonably high, and we may see these large butterflies once again in Prince Edward County next summer.
At last, we may have found something that can make some use of our prickly ash.
For more information on the giant swallowtail, check out the following websites, from which some of this information was taken.
http://www.butterfliesandmoths.org/species?l=1366
http://creatures.ifas.ufl.edu/citrus/giantswallowtail.htm#life
---
Photos of the giant swallowtail butterfly and larva were taken by Elizabeth Kerr, bird banding assistant at the Prince Edward Point Bird Observatory.
---