BIRDS OF ONTARIO FIELD GUIDES
Attempts have been made by several others to produce a comprensive guide to the birds of Ontario. While this might seem to be a distinct advantage over the popular eastern North American field guides, one of the problems with more localized books is trying to decide which birds to include. Although the books do a great job, one of the drawbacks of course, is the absence of stragglers, vagrants and other species that do appear from time to time, but are not included as they normally do not occur in Ontario on a regular basis. Below are three such guides. Have a look at how the birds of Ontario have been treated in the following books.
---
COMMON BIRDS OF ONTARIO
reviewed by Terry Sprague, 2007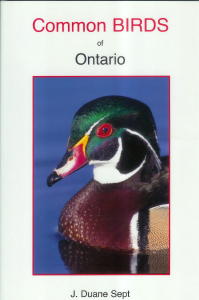 Ontario is a huge province, taking in many different life zones with some species present in some areas, and entirely absent in others. This is also especially true with birds, some species readily abundant and nesting in Prince Edward County, species that one might be hard pressed to find in the boreal regions. And the reverse is also true. We are seeing some of that this winter as species such as redpolls, Bohemian waxwings and pine grosbeaks are present, forced out by a seed crop failure in the boreal forests. Bohemian waxwings, for example, nest so far north, they are almost out of Ontario altogether, but a flock of 500 seen a few weeks ago in Belleville would seem to brand them with a different abundance code down here this year.

So, it is a bit risky to title a field guide, "Common Birds of Ontario." However, author J. Duane Sept has done a praiseworthy job at picking and choosing which species to treat in his 93-page book, published in 2004. However, if you have access to a field checklist of birds, and they are available for every region these days, including Prince Edward County, it is no chore to cross reference and determine what species in this book might be expected to occur, no matter where you live, or happen to be birding.

With 36 species of warblers on the Prince Edward County check list, most of them migrants through this area, on their way to the boreal forests where they nest, it must have been a challenge to decide which 10 species he was going to discuss in his book, settling on the Tennessee, yellow, chestnut-sided, Cape May, yellow-rumped, Blackburnian, bay-breasted, American redstart, common yellowthroat and Wilson's warbler. A nice mixture for this area of some that nest here, and others commonly encountered as migrants. For this area, it would have been nice to see the familiar warbling vireo treated separately although it is mentioned as a similar species to the red-eyed vireo. God bless him though, he did include the northern saw-whet owl, practically our county bird which will endear this book to local birders for sure. Other birds discussed we get here rarely such as the crossbills and American avocet, and we will never expect to see a spruce grouse this far south. Common birds here like the Caspian tern are not included, but the Forster's tern is, which does not occur commonly, except in southern Ontario. Again, in a book this size, the author did the best he could in a guide that is geared for all of Ontario. However, birders will need to be aware that no Ontario bird book can possibly include all the possibilities and be expected to discuss them in terms that local birds can relate to, as the population is simply so diversified.

For the most part the colour photos are outstanding, thanks probably, to enhancements in digital photography and the ability to digitally enhance. The chestnut-sided warbler on Page 69, the scarlet tanager on page 73, the male cardinal on Page 74, and the eastern bluebird on Page 76, absolutely leap out from the pages. The duck photos are also good, and in at least one case, also depict the females. The females of other species also show up too throughout the book, very useful when something other than a male comes into focus. The photos of both whip-poor-will and common nighthawk are not very useful for identification purposes, but neither are they very photogenic at the best of times.

Because the book was published in 2004, a few of the names do not reflect updated changes to the official Ontario Bird Checklist as determined by the American Ornithologists Union in 2006. Common snipe is now Wilson's snipe again (the AOU just can't seem to make up its mind), and rock dove is now rock pigeon.

The book also includes a glossary of terms used in the guide, and references on related topics including attracting birds, bird feeders and bird houses. Included to, with each species, is very descriptive text, and easy to follow sidebars on nesting, habitat, size of bird and other field marks.

Author Duane Sept's passion for wildlife has brought him to work with his subjects throughout the continent as a biologist, freelance writer and professional photographer, working both as a wildlife researcher and as a park naturalist. The book is available at local bookstores and through the Internet at

www.chapters.indigo.ca/.

It is distributed by Sandhill Book Marketing (1-800-667-3848). The author lives at Halfmoon Bay, British Colombia and his website is

www.septphoto.com .

Common Birds of Ontario by J. Duane Sept, ISBN 0-9730390-7-8, soft-cover, 96 pages, 190 full colour images. Retail $12.95 .
---
THE ROM FIELD GUIDE TO BIRDS OF ONTARIO
reviewed by Terry Sprague, 2001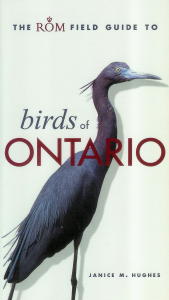 I have become a hopeless field guideaholic. Every time a new field guide comes on the market, I have to have it. If I were to take them all with me on a birding expedition, I would need a larger vehicle to carry them all. And each field guide has strengths in different areas. If one were to somehow extract all those great features, and incorporate them into one book, we would have the perfect field guide.
But even as good as these field guides to birds of eastern North America may be, they tend to be confusing to newcomers to the ranks of the birding fraternity, as among them are numerous species more or less restricted to the southern United States, only rarely occurring in this area.
I reviewed a book recently that solved that problem concentrating its efforts on only those 300 or so species that have occurred in Ontario (Birds of Ontario by Andy Bezener, Lone Pine Publishing) . Since then, yet another similar book has found its way onto the book shelves. The ROM (Royal Ontario Museum) Field Guide To the Birds of Ontario is said to be the first in a series which the ROM is intending to produce to cover Ontario's wildlife. Compiled by Janice M. Hughes, a departmental associate with the ROM, and a professor of vertebrate ecology at Thunder Bay's Lakehead University, the book has assumed the format of most other pocket sized guides, and contains many of the same features. The book has used colour photographs in its depictions of local birds, a process that has failed in earlier attempts from the standard colour plates, but in recent years has become an acceptable means of identity as a result of advancements in digital photography.
Using the book is made easier by employing colour indexing which matches the page edges where certain bird families may be found. The layout is made more readable and less confusing than other guides by devoting once species per page, with a range map in the corner for quick referencing. A rather interesting feature about the book is the use of weights in addition to the usual statistical information. And new to a book of this kind is a handy list of 18 birding Internet websites.
How well does it shape up to companion field guides? Generally, very good. Most species, I think, could be readily identified through the illustrations. But despite advancements in technology, photographs still have their drawback. Often the bird can't always be coaxed into posing in a manner that will serve to flaunt its most outstanding attributes. The hawks, for example, are poorly depicted, and many would likely serve no useful function to a new birder who is trying to determine the identity of one that has been seen. Those of the northen harrier, eastern meadowlark, yellow-willed cuckoo, and Carolina wren have been depicted in almost Audubon-like contortions. The vultures and hawks would have better portrayed in flight, rather than perching, to show off their field marks as we see them most often - viewed from underneath while in flight. The turkey vulture is one which most of us first learn to identity by its two-toned underparts. And, I did find a few errors, or oversights. The bird depicted as a female common eider on Page 75, appears to be a female king eider, if one goes by the beak. And the more I look at the beak of the female yellowthroat on Page 323, the more it looks like that of some other species that may have slipped in by mistake.
There are other difficulties I came upon too which might prove confusing to a new birder, in the status definition, but we have to remember that the assignment of any bird to rare, extremely rare, casual, abundant, etc. has to be averaged out on a provincial scale. What might be rare, or casual, on one area, might not be the case in another. This is where guides to specific areas pin point the status more accurately. Guides to birds of specific areas have been published in the past for Presqu'ile, Prince Edward County, Kingston, Oshawa, and Peterborough, and it is these books we must consult for more detailed information, once a bird has been identified.
The book has its negative points, as does any bird guide. They are never an easy book to produce as they are published to serve as a field guide, and do it in the best way possible with what's available at the time in the way of identification tools. Overall, the book is a welcome addition to anyone's bird identification library. The book is easy to reference, has lots of helpful text, covers all of Ontario's recorded species, the format is pleasing to the eye, and best of all, is up to date with information on birds specific to this province.
The ROM Field Guide to Birds of Ontario. 2001. Janice M. Hughes. McClelland & Stewart, Ltd. And the Royal Ontario Museum. 416 pages. $26.99 ISBN 0-7710-7650-9 .
---
BIRDS OF ONTARIO
reviewed by Terry Sprague, 2001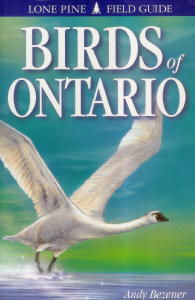 My very first "bird guide" when I stated out birding some 40 years ago was a book with no pictures. Those kinds of books are very difficult to use! The text to each species always concluded with how many specimens the author had acquired with his gun, in the days when material evidence to support a species was mandatory.
Within a year, I learned about the famous Peterson's Field Guide and lost no time in acquiring one. This book had pictures, and I now knew that the bird I had earlier identified as a mallard by text alone was, in fact, a song sparrow! Bird identification guides had been born, and there has been a steady procession of field guides ever since. Some, like Peterson's, deal with only the eastern or western half of North America - a definite advantage over those books that cover the entire continent. This is important if an impatient warbler is waiting for you to identify it as you leaf through endless pages of species not even expected here.
But even guides to birds of eastern North America may be confusing to a newcomer to the ranks of the birding fraternity, as among them are numerous species more or less restricted to the southern United States, only rarely occurring in this area.
A recent publication, "Birds of Ontario," solves that problem by concentrating its efforts on only those 318 species that have nested, or been confirmed nesting in Ontario at least 10 recorded times. Thirty-seven occasional species and species of special note are briefly treated separately in an illustrated appendix.
Author Andy Bezener admits that this book does not describe all the different plumages of each bird, but focuses on only those forms that are most likely to be seen in this area. This makes the book at 376 pages compact and light enough to carry around with you in your pocket or backpack. With one species per page, the book provides considerably more information than most guides, such as nesting habits, status, best sites in Ontario to find them, and some hints on identification. Each species account includes a handy Ontario range map which depicts year round residency, breeding range, winter range, with additional information on dispersal of non-breeding birds during summer , migration ranges and possible breeding areas.
The author is a long time birder with a degree in wildlife conservation biology and a background of field work with the Canadian Wildlife Service. Former Curator of Ornithology at Toronto's Royal Ontario Museum, Ross James, provided assistance with the book. The publisher, Lone Pine publishing, is no stranger to readers seeking fine guide books on every subject from picnicking in Ontario to bicycling. This is the author's fifth guide book with Lone Pine, previously authoring guide books on the birds of northern California, Boston, New York City/New Jersey and area, as well as a nature guide book to the Rocky Mountains. As a matter of interest, Lone Pine Publishing, in 1990, published two other local field guides by friend Gerald McKeating, on the birds of Ottawa and birds of Toronto.
The illustrations in Birds of Ontario are generally very good. A nice feature about the book is a handy reference guide which sorts everything into families. Also included are some details on a few birding areas in Ontario, including Bon Echo, Algonquin, Presqu'ile, Cranberry Marsh, and others. Regrettably, Prince Edward Point has been omitted from this section; however, it was nice to see it included in the list of Ontario's Top Birding Sites, which includes not only Prince Edward Point, but the Big Island Marsh and Sandbanks. Other perks include a glossary, an Ontario checklist of birds, and an index of scientific names.
Birds of Ontario. Andy Bezener. Lone Pine Publishing. Edmonton, Alberta. 2000. 376 pp. Illustrations by Gary Ross and Ted Nordhagen. Paperbound. $26.95