Written by Terry Spraque
Apr 21, 2009 at 01:41 AM
T H E N O O K
1119 County Rd 7 (Lake on the Mountain Rd.) Picton, Ontario
Owner: Ruth Gangbar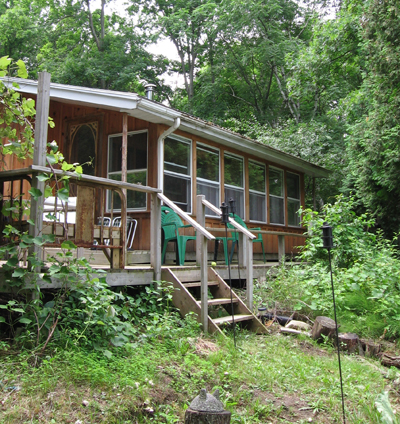 A simple indulgence, off-grid and out of sight, nestled among an old stand of forest along the shores of Lake Ontario, The Nook is a secluded cabin ideal for couples who are looking for the perfect escape. Part retreat, part refuge, it features a private sandy-pebbled beach, a fully-equipped propane-powered kitchen (fridge, freezer, oven, water heater and lights) and three-piece bathroom, complete with claw-foot bathtub.

Though only ten minutes east of Picton along Adolphus Reach (and ten minutes from Ruth's Canteen), The Nook could be a million miles from nowhere. It offers the calm of languid days and the comfort of tranquil nights, whether you're lounging on the screened-in porch or surveying the shoreline by sea kayak. In short, it's funky, unfussy and blissful.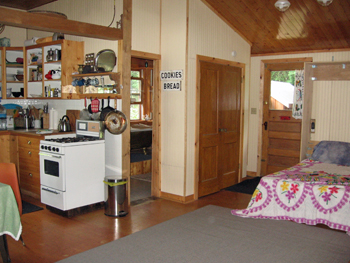 Unfortunately (or not), The Nook is unsuitable for children and only good dogs are allowed, with permission. Cell phones will get a signal, though wireless Internet is a maybe/maybe not proposition. Guests are also expected to bring their own bedding (e.g. sheets, pillow cases, duvets).Ruth supplies the blankets. If winter is more your cup of cocoa, enquire about our Value Season section.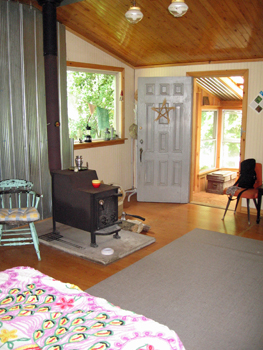 Intrigued? Then please contact Ruth Gangbar for more information. And while you're at it, check the seasonal rates.

Value Season

From summer sanctuary to winter haven, The Nook is also a perfect hideaway for those wanting a cozy lodge to curl up in come the chill. Equipped with a woodstove that provides the hot water (and the prospect of a wood-burning outdoor sauna later this year), visitors can enjoy no end of snowshoeing, cross-country skiing, and even endless skating if the bay permits. A parking spot is kept ploughed at the top of the road, as a somewhat steep driveway prevents parking down below. Value season runs from November through February. The Nook is closed during the "Mud Season" of March, April and May.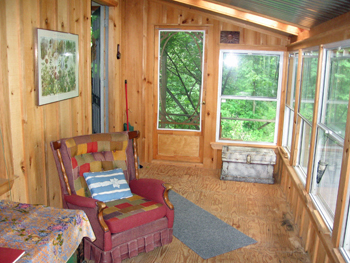 Rates

The following rates are based on double occupancy, suitable for two adults. Please note, good dogs are allowed with permission only. Turnover days: Sunday to Sunday.

High Season [May to September]: (minimum 3 nights)

- weekly $850
- 3 nights $400
- 2 nights $290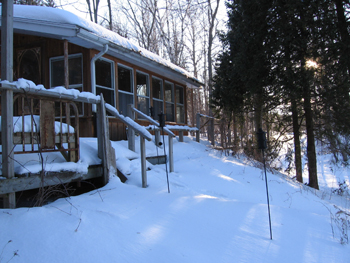 Value Season
[October to January]: (minimum 3 nights)

- weekly $425
- 3 nights $200
- 2 nights $145

Minimum duration of stay during summer season: weekly (with last minute bookings of 3 days accepted). Payment is accepted by Paypal, cash or cheque. $300 damage deposit. $300 rental deposit to secure booking.

---
THE ART OF THE PICNIC

Whether you're venturing out into the County or staying put on the property, nobody packs a picnic like Ruth. The emphasis is on fresh, it's on local and on flavour. From modest nibbles to substantial noshes, Ruth prepares fresh-baked goods, soups, salads and Mains, and packs them in reusable/recyclable containers. Need a drop-off? No problem.

With over 15 years in the trenches of 'food toting to photo-shoot' experience, Ruth has evolved her own inimitable style when it comes to preparing picnic baskets. Drawing from her creative collection that she has developed over the years, you'll be as charmed by the look of the baskets as you are sated by the contents. For those taking the baskets off-site a small deposit is required. Some baskets are also available for purchase Reservations are required, but you can always give Ruth a call to see what's cooking.



Contact: Ruth Gangbar
985 County Rd 13
RR#2 Milford On
K0K 2P0
613-476-9702 h
416-779-6513 c
Last Updated ( Jan 01, 2013 at 10:23 PM )